Features and Benefits
All-IN-ONE SOLUTION
Our SAAS (software as a service) hosted web platform provides a full-featured Content Management System (CMS), and many improvements and conveniences over other technologies.
Updates
With a hosted CMS, the software is always current with the latest security and feature updates.
Security
Not vulnerable to intrusions common to Wordpress and PHP websites. HTTPS (SSL) included in all plans.
Dynamic
Shopify's Liquid server-side scripting is an easy to use, powerful tool for templating and dynamic content.
Anywhere Access
With a web-based admin, you can log in and manage your site from anywhere in the world, anytime.
Content-first
Custom modules make content-first easy. Storing content in data-sets makes updates and design changes a breeze.
Cost-Effective
Monthly hosting costs are significantly cheaper than enterprise systems, with the same or better features.
Redundancy
Have piece of mind with servers that are hosted on Amazon's Enterprise Cloud Services.
Responsive
We use Zurb Foundation's lightweight and responsive grid libraries for sites that look great on any device.
Our Sites
Here are some of our active websites hosted on this platform that we designed and built.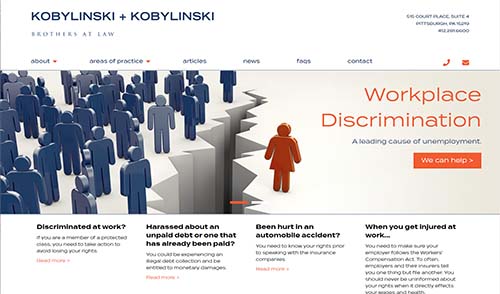 Koby.law
Award-winning Pittsburgh law firm specializing in discrimination and personal injury.
Visit Site